Disclaimer: The Fandads were provided with a review copy of Spongebob Squarepants: Bikini Bottom Bash to host a giveaway. All thoughts, opinions, and full bellies from birthday cake are our own.
Who is ready to party? Come on down to Bikini Bottom for a few celebration-themed episodes of Spongebob Squarepants. The episodes on his DVD are a lot of fun, but our favorite one is Spongebob's Big Birthday Blowout. It is great to see the actual voice actors in front of the camera doing what they do best. Keep reading to see how you can win your own copy of Spongebob Squarepants: Bikini Bottom Bash.
SpongeBob SquarePants and the Bikini Bottom gang keep the good tides flowing in SpongeBob SquarePants: Bikini Bottom Bash, arriving on DVD April 28, 2020 from Paramount Home Entertainment and Nickelodeon Home Entertainment.
This rockin' compilation boasts five uproarious party-themed episodes, including SpongeBob's Big Birthday Blowout, which ranked as the #1 show for the year across kid networks among K2-11, K6-11, K9-14 and K12-17. It's SpongeBob's birthday, but it's a surprise, so SpongeBob and Patrick are going on a tour of the surface world while everyone else plans the birthday blowout below. Then, Bikini Bottom throws a wave of other parties: Catch some rays with SpongeBob and Patrick to get into the biggest bash in town, enjoy a girls' night in at Pearl's sleepover, raise the pineapple's roof at SpongeBob's house party, and celebrate the Krusty Krab's momentous eleventy-seventh anniversary! Let's par-tay! The mixed live-action and animation special features the celebrated voice cast behind SpongeBob, Patrick, Mr. Krabs, Sandy, Squidward and Plankton playing human versions of their animated characters and guest star David Hasselhoff (Baywatch). Additional guest stars in the special include Kel Mitchell (All That), Jack Griffo (The Thundermans) and Daniella Perkins (Knight Squad).
SpongeBob SquarePants: Bikini Bottom Bash will be available for the suggested retail price of $10.99.
Episodes:
SpongeBob's Big Birthday Blowout
SpongeBob's House Party
Sun Bleached
The Slumber Party
Truth or Square
What's a party without treats? Check out these great pineapple cupcakes!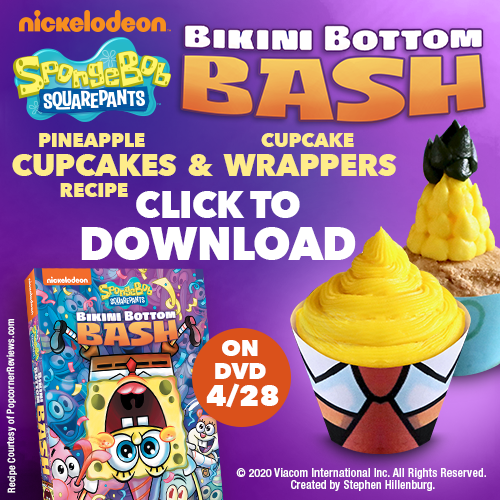 a Rafflecopter giveaway
Please note: Due to the current pandemic, prizes will be shipped at a later time than usual. Please have patience us and our sponsor in getting the prize to you.